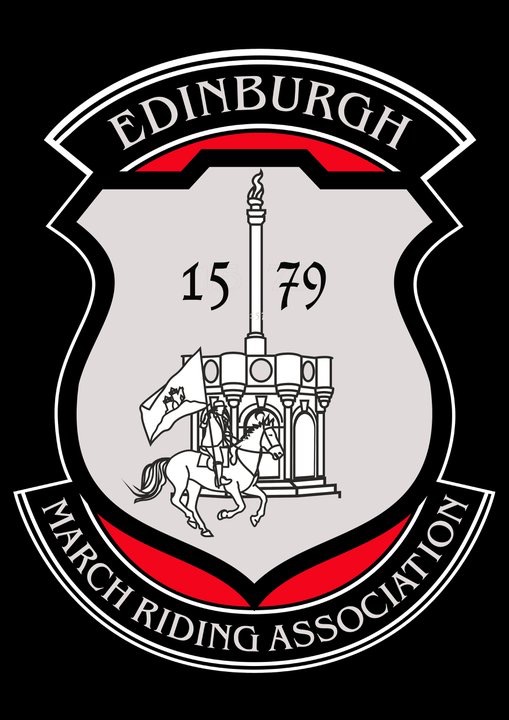 Our Charity
The Edinburgh March Riding Association Ltd is a Registered Scottish Charity Number SC041202. Throughout the year we carry out fundraising activities and events in order to raise funds which are used as follows:
To pay for the running costs of the annual Edinburgh Riding of the Marches
To pay for our community outreach activities which includes visits to schools, community centres and retirement homes, taking horses and ponies along for all to meet (which we hire from Tower Farm Riding Stables). To read more about our community projects and visits, please visit our

Schools and Community Visits webpage

where you can also find out how to request a visit.
We work in partnership with the War Horse Memorial, raising funds for their Charitable Giving fund, The Animal Purple Poppy Fund. This is in partnership with the Blue Cross animal charity, raising money for the following charities: The Household Cavalry Foundation, Mane Chance Sanctuary, World Horse Welfare, Brooke, Blue Acre, RDA Windsor, Windsor & Ascot Driving Group and the Royal Artillary Charitable Fund.
The Team
This event is solely planned by, fundraised for and produced by a committee of volunteers, who work tirelessly throughout the year in preparation for the annual event. These volunteers are as follows:
Councillor Iain Whyte (Director)
Chairman
Stuart Mitchell (Director)
Vice Chair
Kay Robertson (Director)
Treasurer
Stuart Nicoll (Director)
Main Event Operations Director
Don Young (Director)
Old Master and Lord Dean of Guild of the
Royal Merchants Company of Edinburgh
Ian Robertson ( Director)
Deacon Convenor, Incorporated Trades of Edinburgh
Sheila Collins (Founder of The Edinburgh Exiles Society)
Community Engagement Lead, Secretary & Membership
Gordon Rutter (Director)
Officer to the Convenery of the Incorporated Trades of Edinburgh
& Historian to the Edinburgh March Riding Association
Sam Lockhart (PR, Marketing & Merchandise)
Paul Richards (2016 Edinburgh Captain)
Head of Event Day Security
Cheryl McVay-Edwards (2016 Edinburgh Lass)
Dean Smith (2017 Edinburgh Captain)
Gary Ulke (2018 Edinburgh Captain)
Fundraising & Events Officer
Jennifer Caw (2018 Edinburgh Lass)
Principal Party Co-ordinator
Rose Hessell (2019 Edinburgh Lass)
Kirsty Symon
Victoria Cuthbert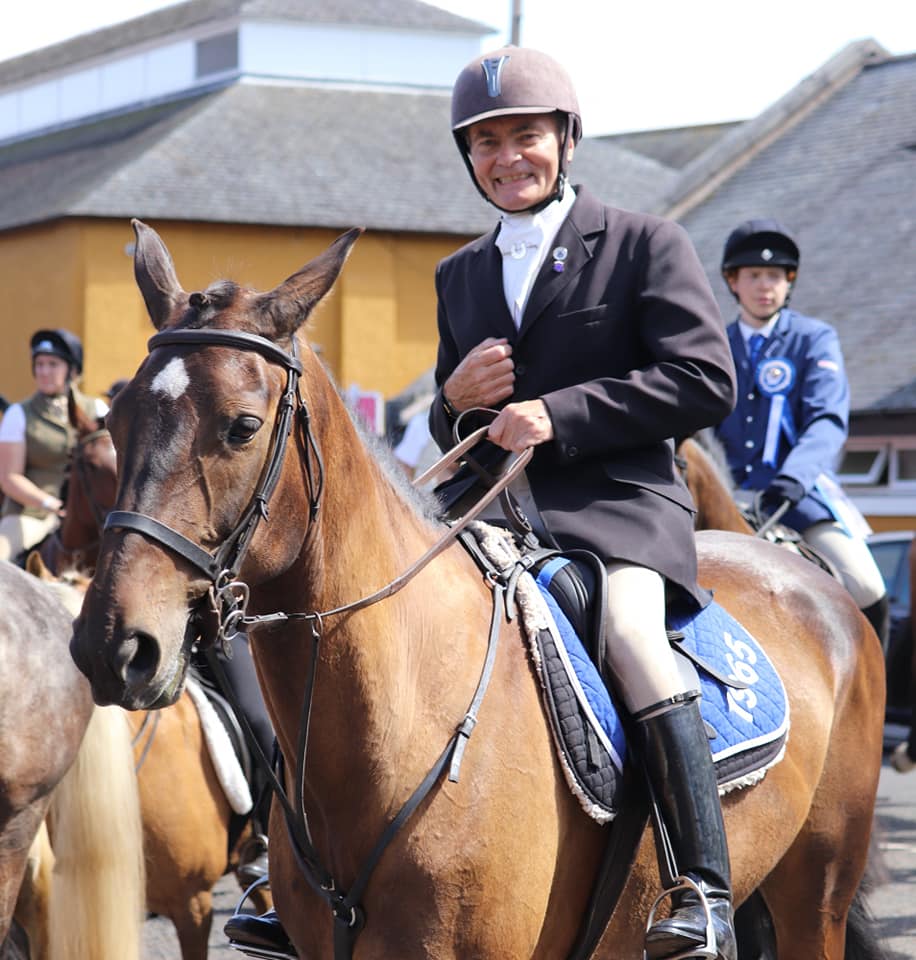 The building of the Edinburgh March Riding Association Ltd ('EMRA')
The EMRA committee has had a number of members over the year, and casting our eye back it's important to take note of some of the key original members.
One person who holds special position is Rob Hardie. Rob was instrumental in helping EMRA to establish its business standing. Working very hard in the first year, Rob set the company up as a Limited Company and helped draft the original Constitution. A true gentleman!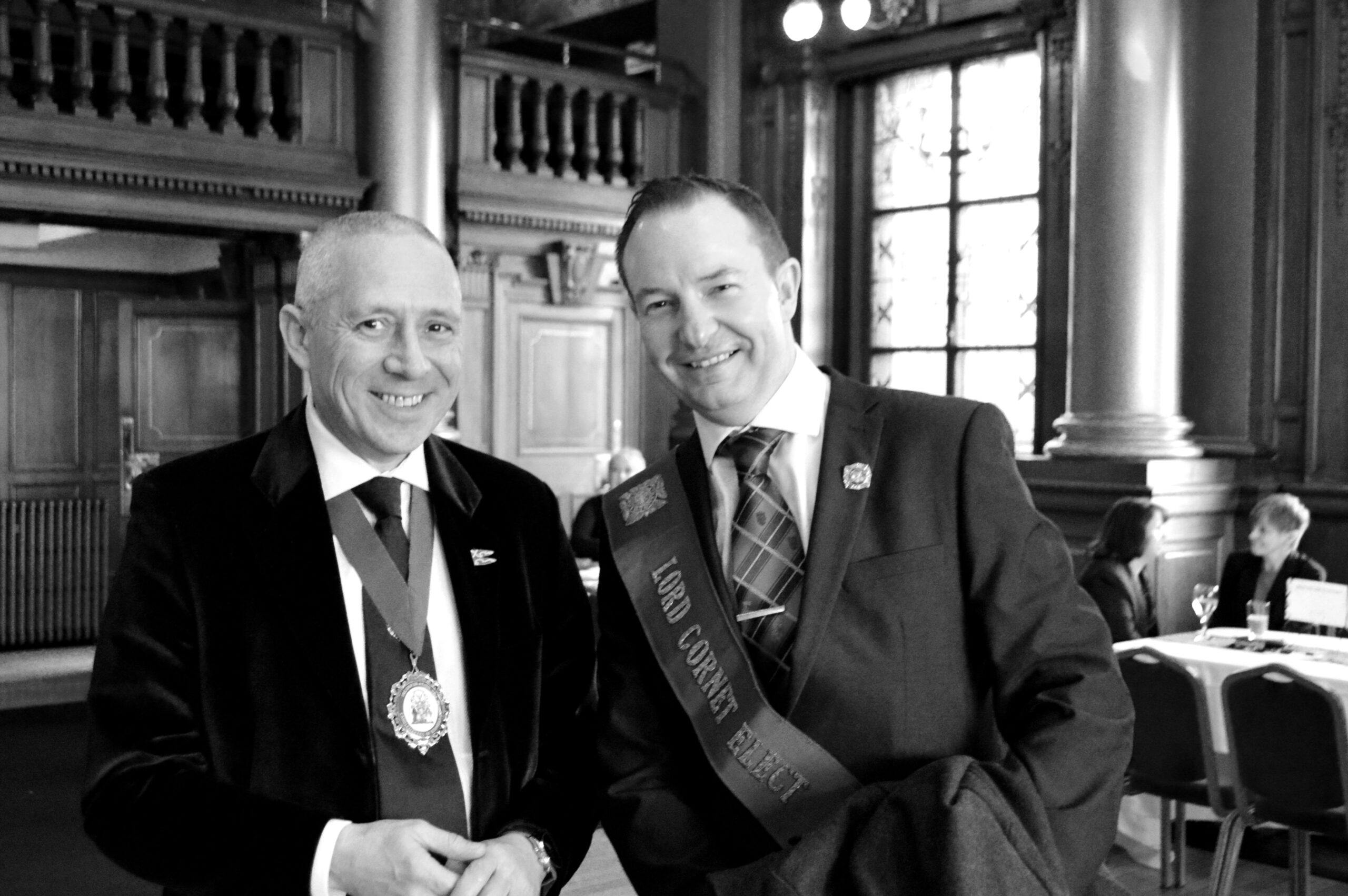 Ian Douglas is the founding member – having created the idea of an Edinburgh Riding of the Marches revival during the year of 2008. After some deep research, Ian eventually approached various people to help him execute the idea.
Photo (left to right): Ian Robertson, Deacon Convenor of the Incorporated Trades of Edinburgh and Ian Douglas; founder, creator and Lord Cornet, Lanark.
Photo credit: Edinburgh March Riding Association Ltd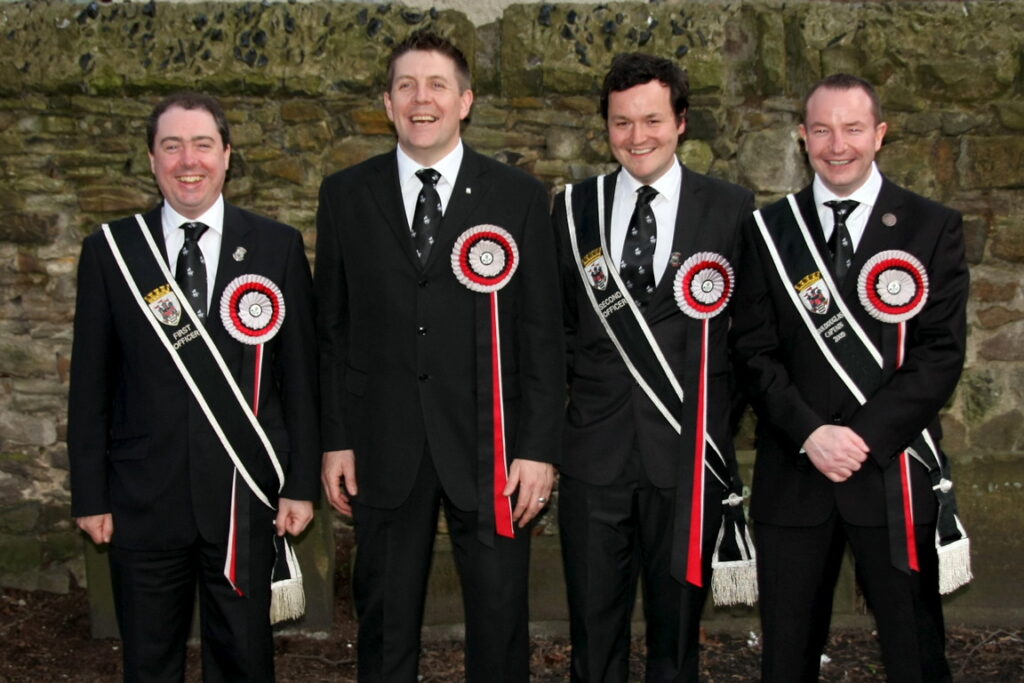 Along with Kay Robertson, the early development of the Association was executed by Steve McGill, Ian Douglas, Iain Whyte and Gareth Monro. Ian Douglas – the founding member – created the idea of an Edinburgh Riding of the Marches revival during 2008. Iain Whyte assisted with regulation and process and was elected as Chairperson of the newly formed EMRA and still holds the position. Steve McGill is largely responsible for the Association's position today. Along with Gareth Monro, Steve was the original Event Co-ordinator and had an unwavering drive and his hard work should never be forgotten.
Photo (left to right): Iain Whyte, Steve McGill, Gareth Monro, Ian Douglas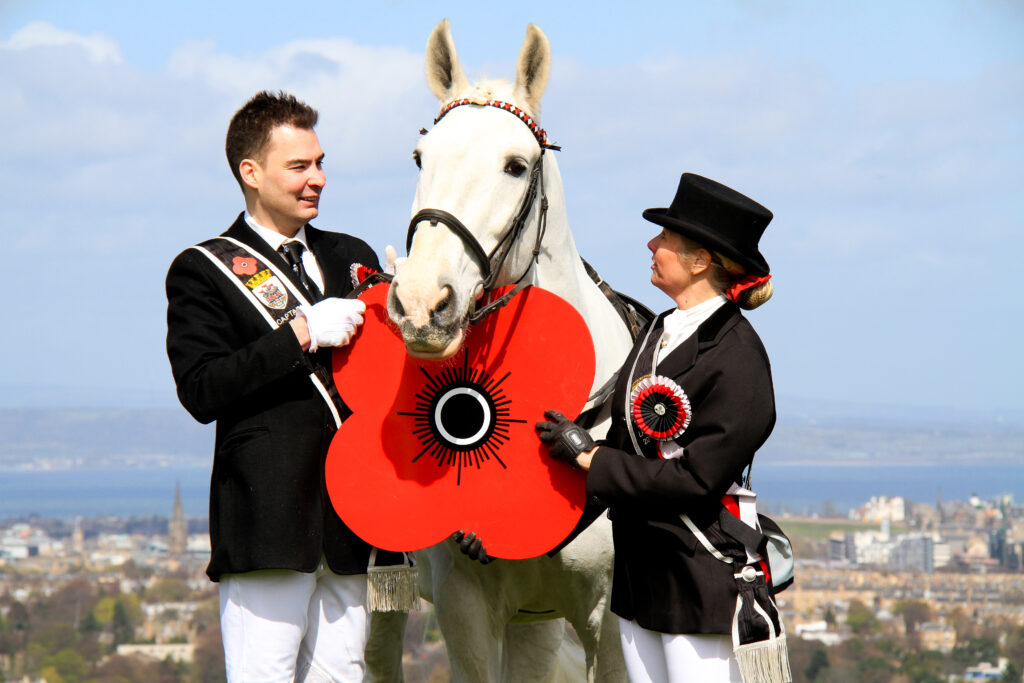 Kay Robertson has been part of the Committee from the first meeting and still attends all meetings as Treasurer and is a Director. Stuart Mitchell, joining in 2011 and now a Director of the Association, leads on strategic development.
The two were the Captain and Lass in 2014 when the event partnered with Poppy Scotland, to commerate the outbreak of the First World War. Two riders from charity Horseback UK carried the Poppy Scotland Flag and the City of Edinburgh Banner up the Royal Mile.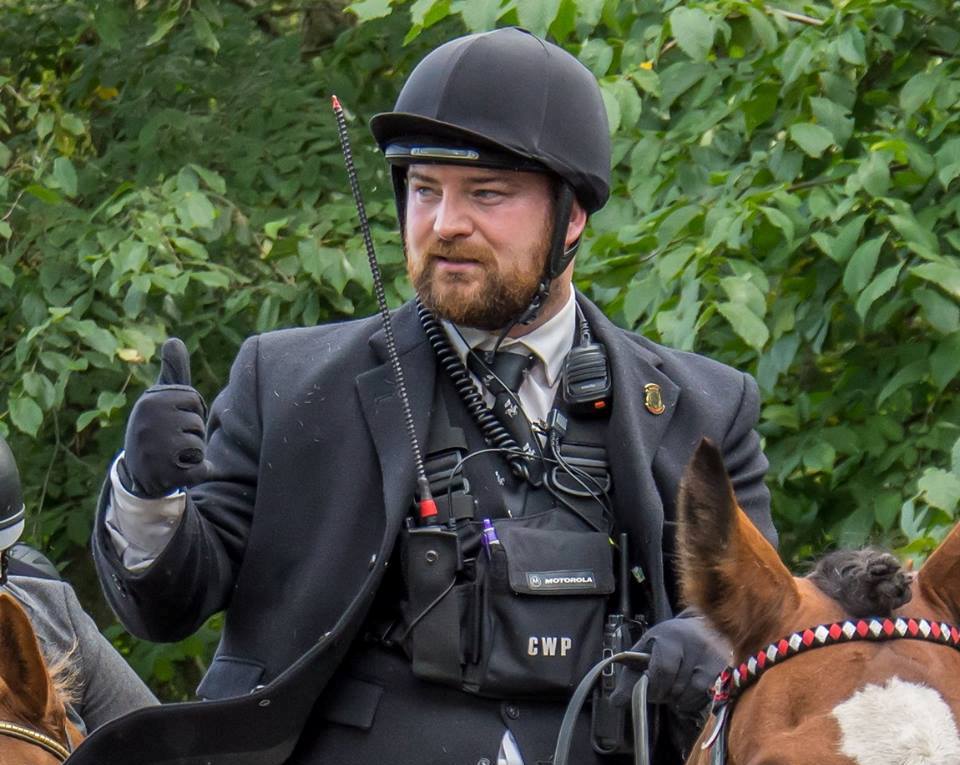 Stuart Nicoll came on board in 2013 and eventually took on the Event Co-ordinator role; now the driving force behind the main event day, he brings his expertise as a Risk Control and Security Company Director. Stuart pulls together all of the event planning, strategy, timings, risk assessments, licensing, performers, stewarding and security team, liases with police operatives and road traffic control, Edinburgh Council, liases with the landowners for access during the morning ride route, Scottish Environment Scotland and Historic Scotland for access to Holyrood Park and the Royal Mile and much, much more! Stuart's attention to detail has evolved the event in to the incredible spectacle that it now is. Stuart is also Vice Chair and a Director.
Photo credit: Alan Wilson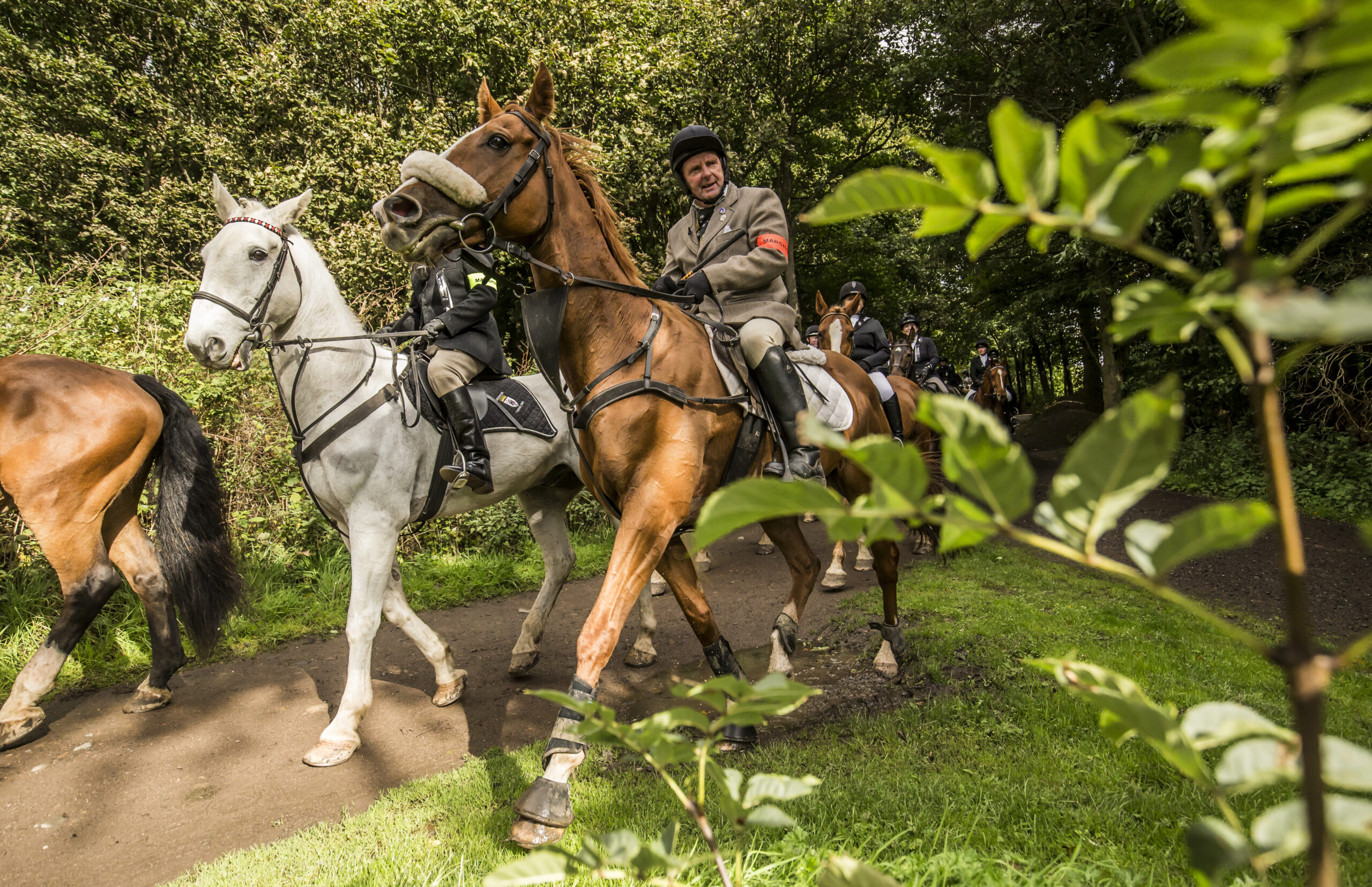 Billy Spence has been our Chief Riding Marshall for 11 years, completing every single Edinburgh Riding of the Marches. The Association is indebted to Billy and we thank him for his service!
Photo credit: Phunkt.com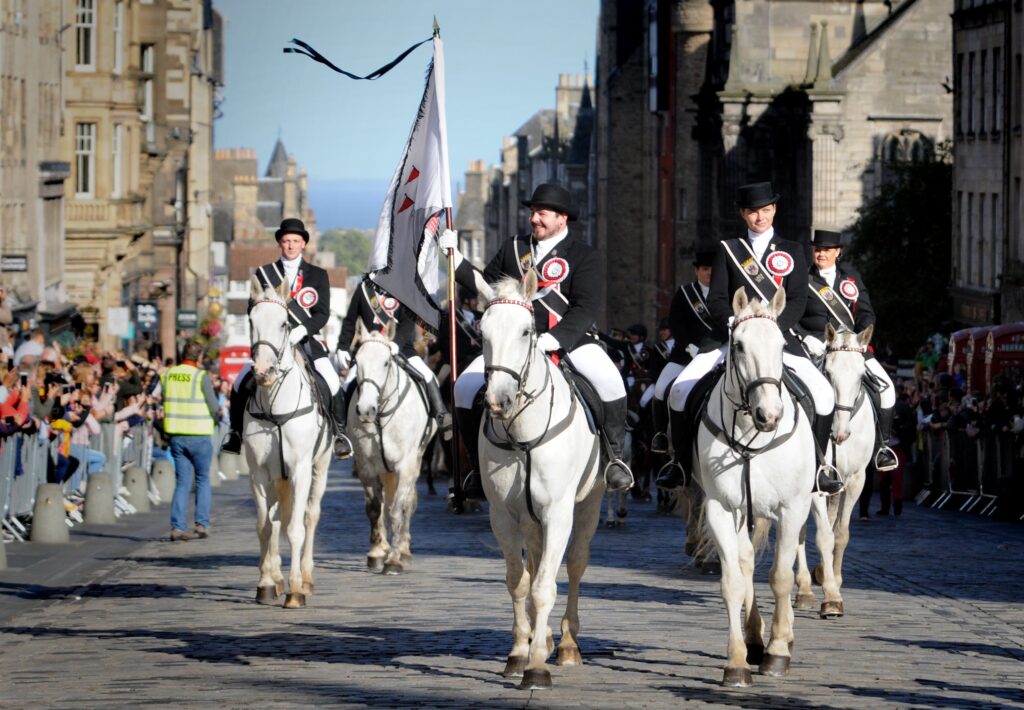 We have had a strong relationship with Tower Farm Riding Stables from the beginning. Debbie Henderson and her staff have helped facilitate many elements and a Tower Farm horse has carried our Captains for 10 years, including over half of those by the famous and much loved Grey 'Monarch'. Tower Farm has also engaged in a series of fundraising events over the 11 years, raising over £20,000 for the Association! A special relationship that we will hold close for many years to come.
Photo credit: Alan Wilson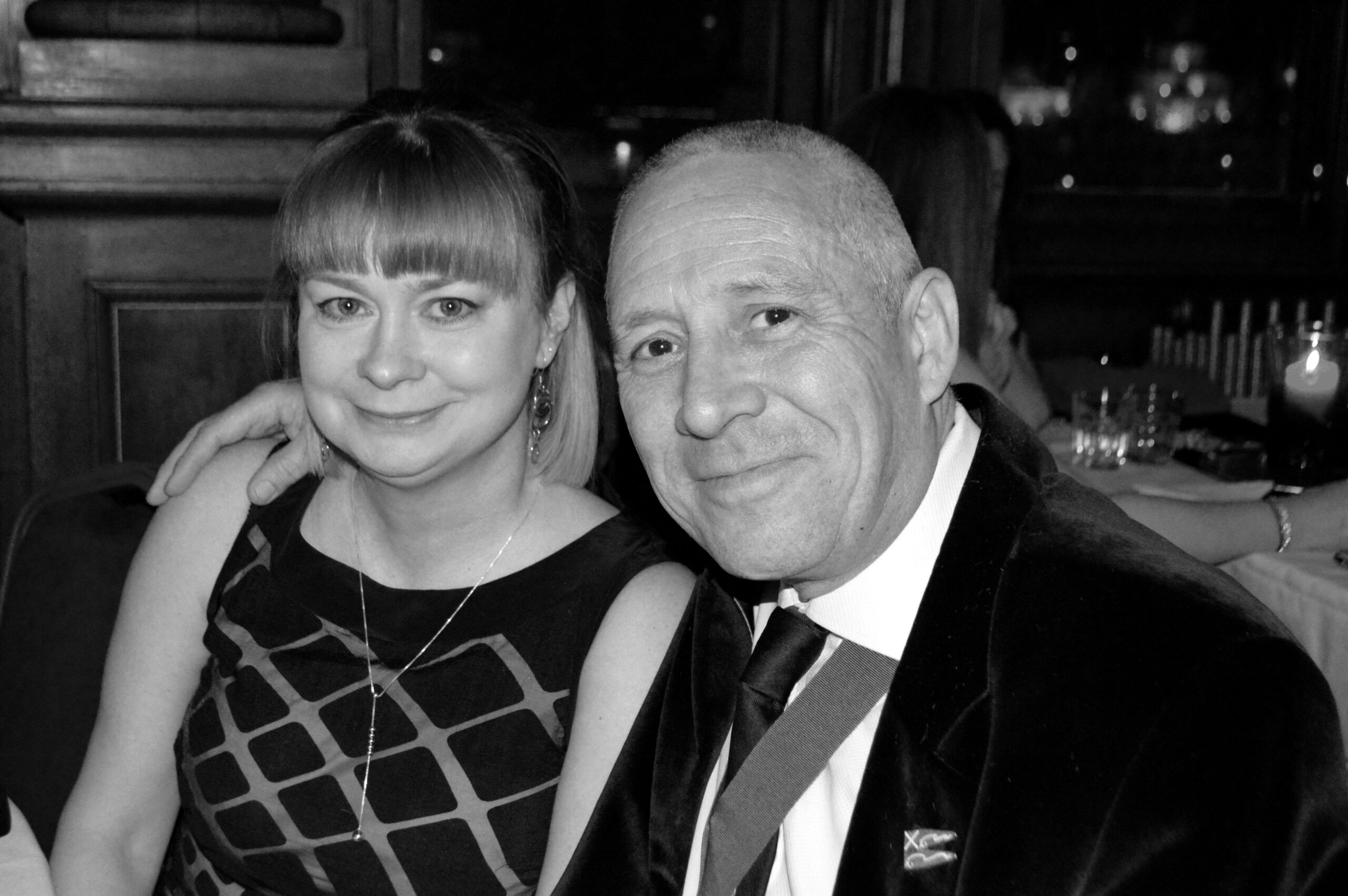 The Incorporated Trades of Edinburgh – In tight liaison with us since 2012, in 2013 an agreement was found in the Blue Blanket becoming part of the cavalcade. Ian and Viv Robertson have been spearheading the Trades for many years, with Ian becoming Deacon Convenor in 2018. He has brought us together with many city organisations, including the High Constables of Edinburgh and The Royal Company of Merchants of the City of Edinburgh.
Photo credit: Edinburgh March Riding Association Ltd