The 2023 Introduction Evening took place on Saturday 15th April 2023 at The Pavilion, Myreside, EH10 5DB.
Our first fundraising event of the year, the 'Introduction Night' is a traditional event when our newly elected Edinburgh Captain and Edinburgh Lass are introduced. These highly coveted roles are filled by elected candidates, who will be presented with their titled Sashes, installing them in their roles as the City of Edinburgh's Principals for the Edinburgh Riding of the Marches.
The evening included the Official Declaration by the Edinburgh Lord Provost, Robert Aldridge, a buffet, disco and a fantastic raffle.
A BIT ABOUT OUR 2023 EDINBURGH CAPTAIN & LASS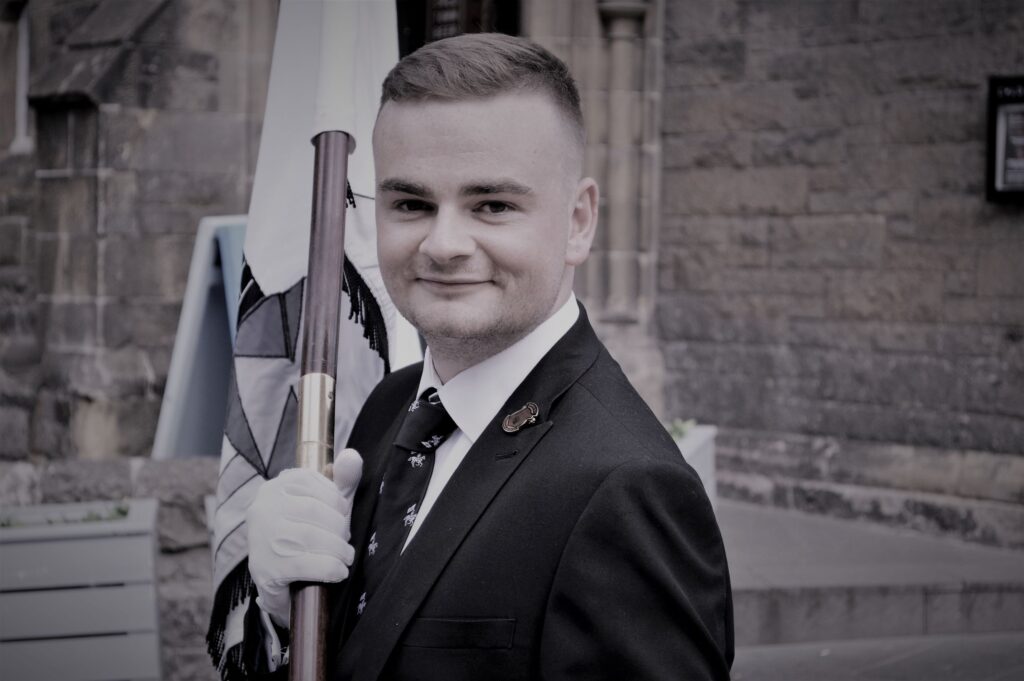 2023 Edinburgh Captain, Jay Sturgeon
Captain Jay Sturgeon is 25 years old and was born and raised in Edinburgh. He attended both Gracemount Primary School and the High School before entering his job at the City of Edinburgh Council where he is currently the Executive Assistant to the Head of Strategic Planning. Jay has worked in the Council for 6 years and has progressed through various different roles, initially starting working for the Chief Executive and completing his Modern Apprenticeship in the Chief Executive's office.
Jay has been riding for over 10 years and began his riding career at Tower Farm Riding Stables in Edinburgh and continued to ride there before getting his own horses a few years later. Jay tells us, on being told he had been elected as Edinburgh Captain, that it is "an honour and privilege to take on the role." Jay has followed the ride since its revival and being elected as Captain was something he never imagined would be achievable. Jay says 'Since I was announced as Edinburgh Captain Elect 2020 I have been utterly overwhelmed by the support I have received, especially from my family. They have seen me grow up around horses and take part in various common rides and now to be taking this leap and having my support-base cheer me on means a lot. I would like to share a quote from my Nana: "As a family we are all very proud of you for being selected for the position of Edinburgh Captain and think you deserve the recognition. We believe that you will carry out the role to the very best of your capabilities and with pride."'
Jay is looking forward to engaging with Edinburgh's neighbouring Common Riding and Festival towns and celebrating at their various events throughout the year. He will also enjoy linking the role of Captain in with his job at Edinburgh City Council, focussing on raising awareness for the Edinburgh March Riding Association and getting involved in community engagement.
Jay has known his Edinburgh Lass Abbie McDowell since they were both learning to ride together and they are the best of friends, so he is thrilled to be sharing such a special experience with her.
An interesting fact about Jay is that he was a keen footballer when he was younger, playing for Tynecastle FC. But the lure of horse riding soon meant that he hung up his football boots and traded them in for jodhpur boots!
2023 Edinburgh Lass, Abbie McDowall
2023 Lass Abbie Mcdowall is 24 years old and was born and raised in Edinburgh. She went to primary school at Balgreen Primary School and High School at Tynecastle High School. Abbie works at Tower Farm Riding Stables where she is involved in teaching, taking out rides and the general care of the horses.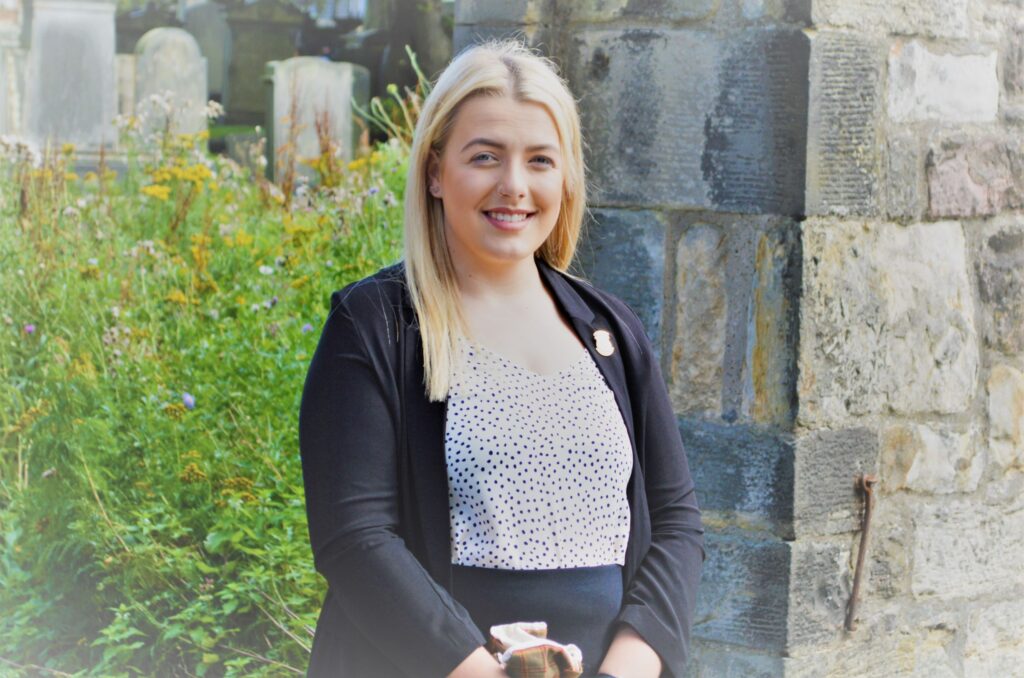 Abbie has followed the Edinburgh Riding of the Marches since its revival and would watch the procession of hundreds of horses up the Royal Mile in awe. As part of her job at Tower Farm Abbie worked alongside the Edinburgh March Riding Association, as part of the team that provides the event's processional horses. She tells us "Now over 10 years on, it's surreal that I will be leading the next event. Being elected as the Edinburgh Lass means so much to me; my family have also followed the ride for many years and they are so incredibly proud of me to have been elected. My Dad sent me a message saying that when he found out he had goose-bumps and is so proud! This really makes it even more special."
Abbie started riding when she was 6 years old, had a break for a few years and then returned to it when she was 9. Ever since then she has been absolutely hooked. Abbie has ridden the majority of the Scottish Borders rideouts – and had some unplanned dismounts – and absolutely loves it!
Abbie's hobbies are pretty much taken up with her love of horses, especially her pony Percy. However, when she hasn't got hay in her hair and shavings falling out of her boots she has a love of make-up, both doing other peoples' and her own.
Abbie tells us "There is so much to look forward to next year and I'm looking forward to joining our neighbouring towns, learning more about their festivals and traditions before our own celebration in September. I am really excited about building new relationships and expand on existing ones with other towns. I don't think it has quite sunk in yet, however once I am riding up the Royal Mile with my best friend and Captain Jay Sturgeon, it will all become very real! We have been friends for 10 years now and having him by my side for this experience will make it all the more special."
---
A BIT ABOUT OUR OUTGOING EDINBURGH LASS
2019 Edinburgh Lass, Rose Hessell
27 year old Rose has lived in Edinburgh her whole life, spending much of her childhood in the great outdoors and would often go hiking with her grandparents, mum and sisters, as well as spending every summer as a child on the Isle of Arran – a very special place for her family – her grandparents spent every summer there as a young courting couple and the tradition continued!
Rose started riding at the age of 3; her obsession began after her grandfather took her to clap the Clydesdales at the Royal Highland Show! Growing up and riding as a youngster, galloping along beaches with her mum on on riding holidays in Northern Scotland and spending most of her teens training and competing in equine vaulting, gave Rose an excellent start on horseback. Rose attended Craigmount High School where she excelled in sciences and art, developing her love of drawing and painting. It was following her studies at Oatridge College in West Lothian studying an HNC in Equine Studies that she discovered an interest in anatomy, horse health and nutrition.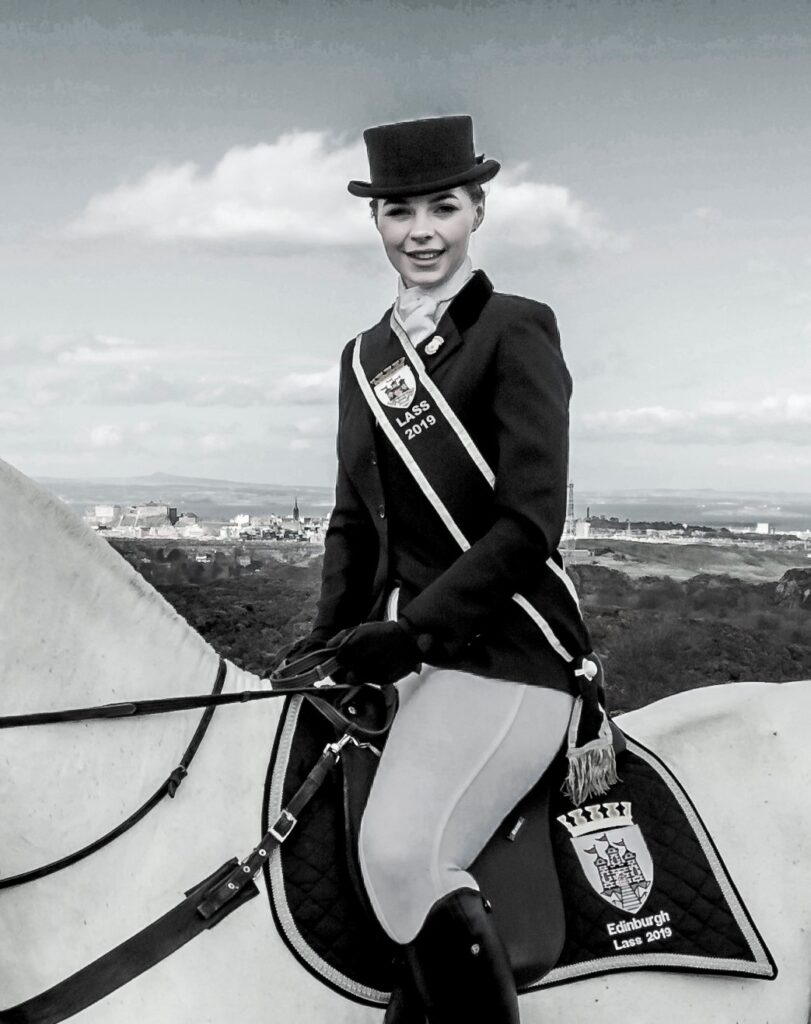 Rose works as an animal care assistant at the SSPCA, having spent 4 years working at the Royal (Dick) School of Veterinary Studies as an Equine Hospital Groom – at first as a casual worker in the summer holidays, before going to Spain to work with Andalusian dressage stallions, however she eventually came back to Edinburgh. Her days are very varied, with something new every day – apart from the usual groom roles of feeding/mucking out the equine patients, she assists any visiting vets with procedures, administering medications and looking after her allocated teaching horses, as well as keeping the place looking spic and span! Rose is very proud to work there and loves her job.
Outside of work, when she has a gap in her busy life, she loves reading, dog walks, music, pub grub, spending time with her friends and counting down to the Scottish Common Riding Season!