We are preparing for our 2024 event. Please check back another day.
Sponsorship opportunities – available for 2024
The show is are an excellent platform for corporate and equestrian businesses and brands on which to showcase their sponsorship for what has become one of the most significant equestrian showing events in the Scottish Showing calendar.
To book your sponsorship, advertising space or trade stand for the City of Edinburgh Horse Show please contact us.
If you would like to volunteer as a helper at any of our Shows, please contact us.
Positions are available on the Registration Desk, as Stewards, Ring Assistants, Runners and on the Catering Stand.
The City of Edinburgh Horse Show was introduced in 2014 as a main fundraising event for the Edinburgh Riding of the Marches which takes place on the Royal Mile every September. The Edinburgh Riding of the Marches is purely funded by monies raised by the volunteer members of the Committee of the Edinburgh March Riding Association, who are all passionate about keeping the tradition and heritage alive for the City of Edinburgh.
This prestigious horse show is no exception and attracts over 500 entries from all over Scotland, held at the Scottish National Equestrian Centre every year. Now recognised as one of Scotland's most prestigious equestrian events on the showing circuit, the City of Edinburgh Horse Show is attracting major interest from the equestrian world. Meticulously planned and organised, the Show is a superb event for novices to pro's.
There are over 30 classes at The City of Edinburgh Horse Show, which also include qualifying classes and championships for the following:
– TSR Showing (download your Qualifying Record Sheet here)
– Veteran Horse Society Area Qualifier
– Caledonian Showing Championships
– Traditional Gypsy Cob Association (TGCA)
– RoR (Retraining of Racehorses)
Champions from the City of Edinburgh Horse Show have also qualified and ridden at the Horse of the Year Show and the Royal Highland Show, with the equestrian press following their progress.
Thank you to our 2022 Judges:
Thank you to our Sponsors of the 2022 City of Edinburgh Horse Show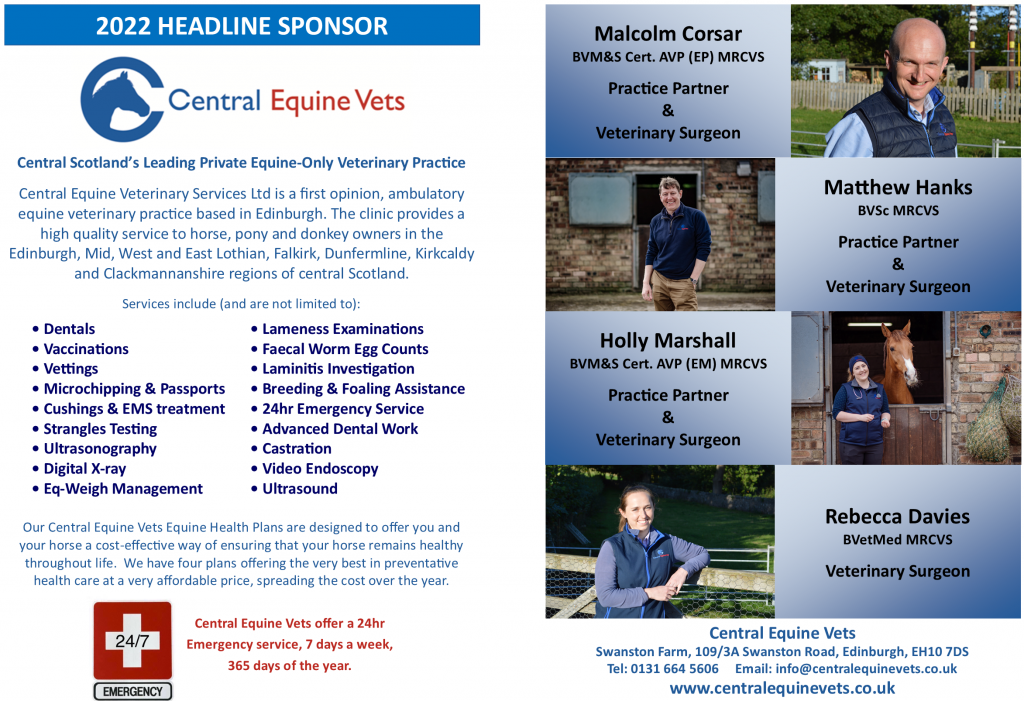 All artwork to be supplied in PDF and PNG format in full colour.
Banner sizes must not exceed 1m in height, must include eyelets and be delivered and collected.
Please note: All advertising and sponsorship needs to be paid in full at the time of confirmation.
HIGHLIGHTS OF THE
2019 CITY OF EDINBURGH SUPREME OF SHOW:
Our 2019 Judges:
It was a great privilage to have a selection of superb judges at our Show in 2019, bringing their experience to the rings.
You can read their biogs here: