This will be held on Sunday 3rd September 2023 at Greyfriars Kirk, Greyfriars Place, Edinburgh, EH1 2QQ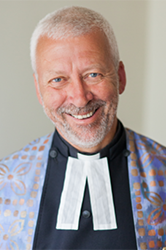 We are honoured to be invited by the Reverend Richard Frazer and the community at Greyfriars Kirk, to take part in the regular Sunday Service on the last Sunday before the Edinburgh Riding of the Marches, when the historical handing over of the Edinburgh City Banner from the Lord Provost of Edinburgh to the Edinburgh Captain takes place, completing the installation as Edinburgh Captain by entrusting him with the City of Edinburgh banner and charges him to inspect the boundaries of our Capital City, with the request that it is returned to him, one week later, unsullied and unstained.
​Attended by the current Captain and Lass and past Principals, committee of the Edinburgh March Riding Association, representatives from the Incorporated Trades of Edinburgh and Baillies of Edinburgh for this traditional, unique event marking the start of the journey of the City of Edinburgh banner in the week leading up to the Edinburgh Riding of the Marches. All are welcome to attend the Service.
For further information please contact us.