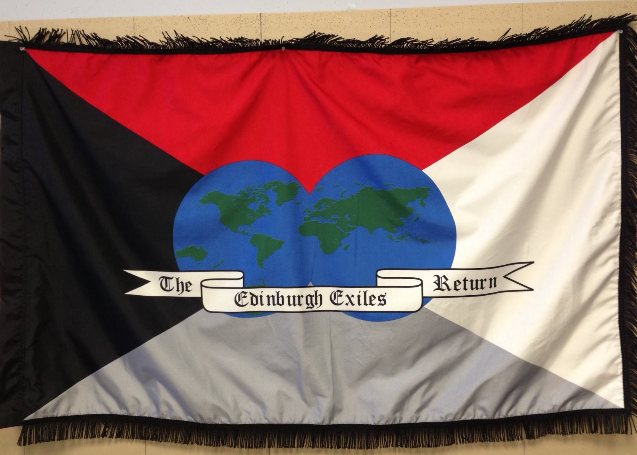 The Edinburgh Exiles Society is an active partner with the Edinburgh March Riding Association Ltd and gives visiting Edinburgh exiles the chance to carry the Edinburgh Exiles Standard as part of the spectacular Edinburgh Riding of the Marches cavalcade.
This unique opportunity for those born and bred in Edinburgh who now find themselves living out-with Scotland to return and share in the historic occasion.
Let us welcome you back in splendour to join us at the annual Edinburgh Riding of the Marches, held on the second Sunday of September.
The migration of Scotland's people over the centuries is of epic proportions. A good number of those emigrants would have settled in places such as India, China, Australia, Canada, The United States of America and South Africa. Places as far reaching as Argentina, Antarctica and Sri Lanka were also made home by many of the Scottish people.
Over 30 million people around the globe are Scottish descendants. Today, a proportion of those descendants will have links more closely to the City of Edinburgh. It is from this pool of individuals that the Edinburgh Exiles Society wishes to invite back to get involved and celebrate their heritage and their city!
The flag represents anyone whom has emigrated from Edinburgh to places around the world. The design ensured the original colours of Edinburgh, black and white (silver used if heraldic) were included. There is a hint of the saltire cross within the design from the Scottish Saltire.
Would you like to be the next Edinburgh Exiles Standard Bearer?
If you have a family connection to the City of Edinburgh and are available on Sunday 11th September 2022 to bear the standard in the Cavalcade and attend the Civic Reception and Claret Toast at the City Chambers and would like to apply for the role of Edinburgh Exiles Standard Bearer 2022, please contact Sheila Collins via email.
Standard Bearers and Ambassadors of the Edinburgh Exiles Society:
Standard Bearers:
2021: Dr John Smail (Standard Bearer) and Patricia Smail (Lady Busser)
2020: Ian Wilson Tough (Standard Bearer)
2019: Josh Ward (Standard Bearer) (Japan)
2018: John Hill (Standard Bearer) & Susan Patricia Welsh (Lady Busser) (Canada)
2017: Gemma Berry (Standard Bearer) & Doreen Berry (Lady Busser) (South Africa)
2016: Major Cameron Hastie (Standard Bearer) (Somerset) & Sonia Hastie (Lady Busser)
2015: Sheila Collins (Standard Bearer) (Canada) & Elaine Brand, Lady Provost (Lady Busser)
2014: Ian Wilson Tough (Standard Bearer) (Crayford, Kent, England) & Sheila Collins (Lady Busser)
2013: John Hill (Standard Bearer) (Canada)
Ambassadors:
Canada: John Hill (Central, East), Nicola Watts (West) & Dawn Collins (North)
England: Ian W Tough
New Zealand: David McKinley (North Island) & Fiona Connelly (South Island)
Australia: Janelle Hodgson
USA: Jim Reid & Diane Hays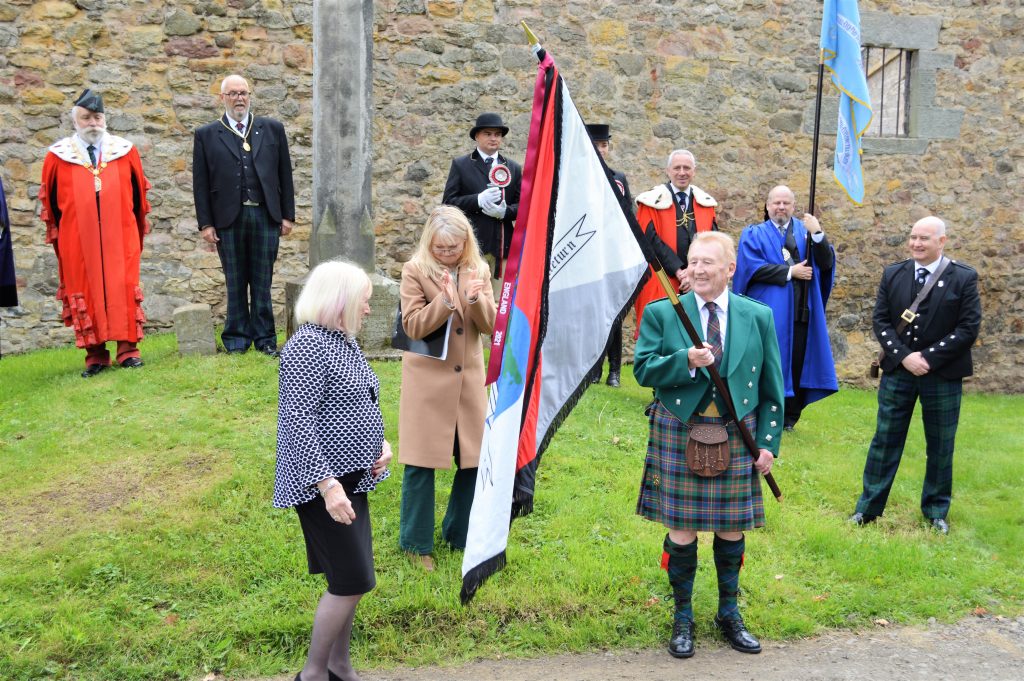 Dr John A Smail
Edinburgh Exiles Standard Bearer 2021
Dr John A Smail has a plethora of family connections to the City of Edinburgh. He boarded and studied at George Watson's College ages 9 – 18 yrs old, following a family tradition set by his father and uncle.
John's parents, Robert and Mary married in Edinburgh on 4th March in 1939.
His father, Robert Somerville Smail and grandfather, John Alexander Smail both practiced medicine after qualifying in Edinburgh.
His mother, Mary Robertson Cassells was a Sister rising to be Assistant Matron at The Northern General Hospital.
His paternal great grandfather's family in the mid 1800's were shepherds in Eddleston. Robert Somerville Smail decided to set up a tailors business at No 9 Princes Street and later opened a drapers shop along Dalry. The story goes that he walked all the way from Eddleston to Edinburgh to start his businesses and settle in the city. John was humbled to discover in his 40's that his last two years in education were covered by a shepherd in the borders with no wife or family to leave his money to.
John is proud of a connection to the royal family as one relative, Dr William Black Alexander, served King George V through his medical practice. Dr Alexander was based at 8 Blenheim Place, now Playfair House Hostel. John's great aunt, Jennie Smail, was an active suffragette in London then moved back home to Edinburgh's Merchiston Crescent.
John's wish was to have a maroon ribbon with white embroidery and his wife Patricia proudly bussed the flag with it.
John and Patricia are both EMRA Platinum Members. John is a member of the Watsonians Club, is a Burgess of the City of Edinburgh, an elected Fellow of the Society of Antiquaries of Scotland, Auld Deacon of The Incorporation of Wrights if Glasgow (Deacon 2012-13) and Past Master of The Guild of Freemen of the City of London (2014-15) as well as a member of the Incorporation of Candlemakers of Edinburgh.
Ian W Tough
Edinburgh Exiles Standard Bearer 2020
Ian W Tough took up the reins once again to represent the Edinburgh Exiles Assocation as Standard Bearer to mark what will have been our 2020 event. Restrictions allowed a very small, Covid-safe outdoor gathering, when Lass Elect Abbie McDowell bussed the flag.
Ian Tough first held the flag in 2014 and we were honoured to have him back to take-up this role once again.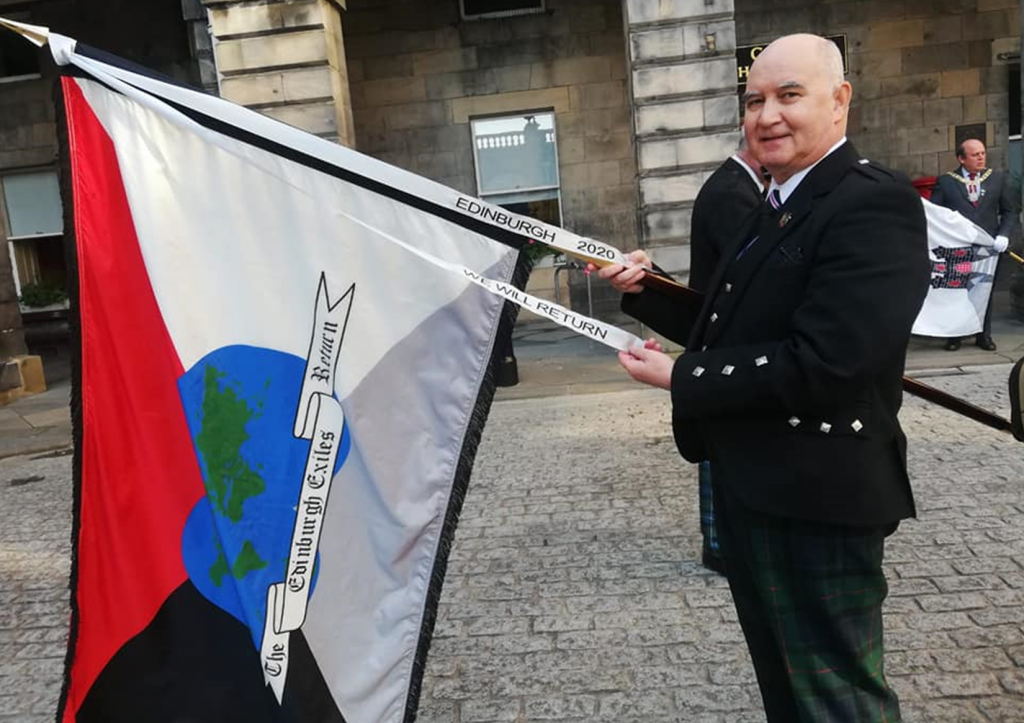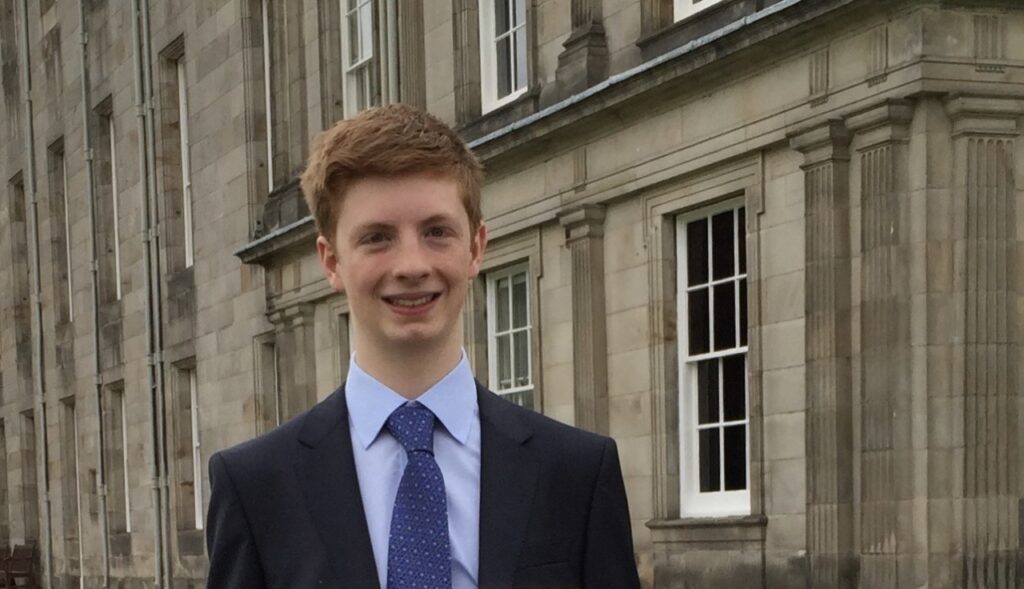 Josh Ward
Edinburgh Exiles Standard Bearer 2019
Josh Ward was born and brought up in Edinburgh. He attended Stewart's Melville College from the age of 4 years old, leaving in 2016 at the age of 18 after successfully completing his Advanced Highers.
In 2016 Josh went on to study at the University of Edinburgh, where he is reading Japanese Language and Culture. His degree course offers him the linguistic and analytical skills to engage critically, and in an interdisciplinary way, with the dynamic Japanese society, and with Japan, now one of the world's most important and influential regions.
Josh has been living in Japan for this past year, attending the prestigious International Christian University (ICU) in Tokyo. Living in Tokyo has given him opportunity to continuously improve and hone his Japanese language skills, an invaluable insight into Japanese life, culture and history. He has managed the day-to-day aspects of life in Tokyo to embracing a new culture and way of living to making friends from all over the world. Grateful to have travelled throughout Japan, visiting Kyoto, Hiroshima, and Nara, Taiwan and to South Korea, he will return to Edinburgh to complete his final year of his degree.
Josh feels especially fortunate that he was in Japan to experience the new era of 'Reiwa' – meaning 'beautiful harmony', which began on 1st May, when the Emperor Akihito stepped down to make way for his son, Naruhito, a momentous historical event, it is to be an era of balance when 'hearts and minds grow together in a beautiful manner'.
Josh returns to Edinburgh with a rich experience of a life on the other side of the world, living in a completely different culture, an experience which demanded an open mind, adaptability, resilience and resourcefulness, as well as a positive and 'can-do' attitude. He returns to his home city of Edinburgh with life-long friendships made in Japan. Returning to Edinburgh, Josh is now looking forward to his final year at University, meeting old friends, to proudly welcoming his new friends from Japan and from other parts of the world to his own home city of Edinburgh and all that is has to offer, and especially spending time with his family.
John Hill
Edinburgh Exiles Standard Bearer 2018 & 2013
The 2018 Exiles Standard Bearer, John Hill, returned to repeat the honour from his original post in 2013. He returned with his partner Susan Patricia Welsh as his Lady Busser.
John was born in Tollcross, Edinburgh on 5th April 1946 to parents Alex & Mary Hill (née Crombie). He started school at St Bernard's School in Stockbridge, followed by Carrick Knowe Primary School when he reached 9 years old. He studied at Tynecastle Secondary School and left at the young age of 15 to start working life.
On 3rd December 1966, John chose moving to Canada over Australia at his mother's request, as she feared she would never see him again. He left for the Canadian shores with 44 Canadian dollars in his pocket.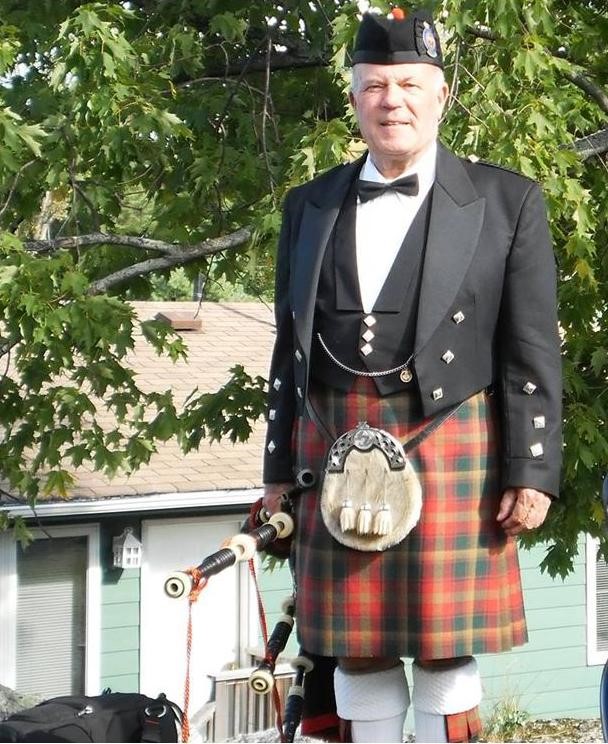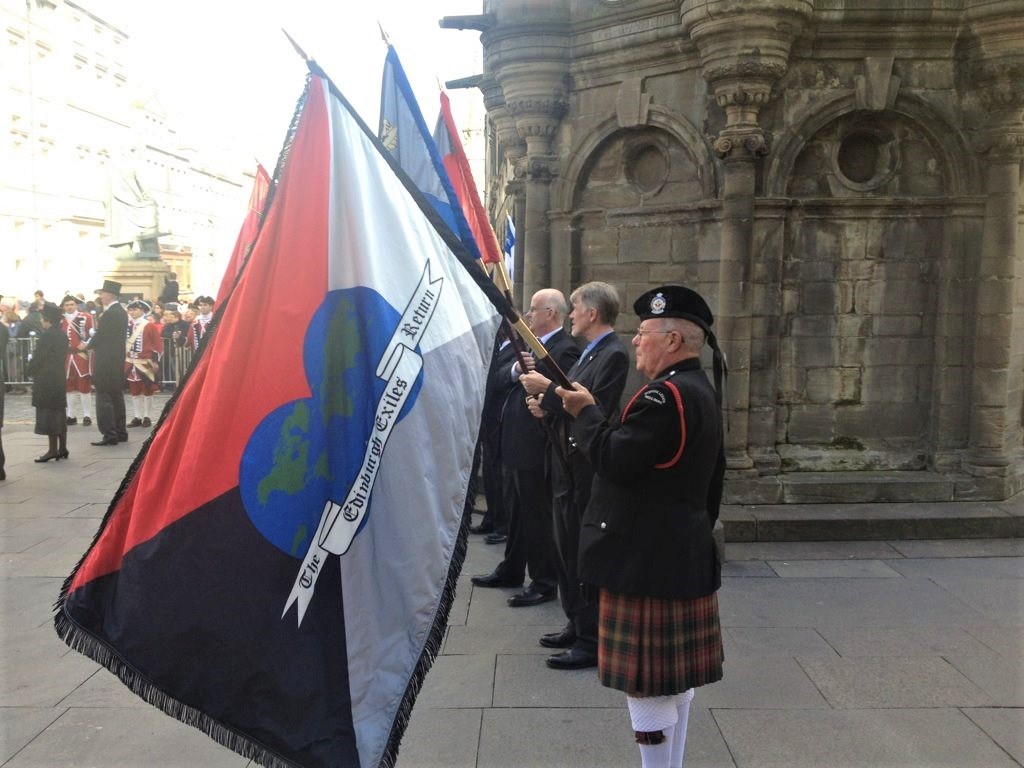 John was extremely proud to be the first Edinburgh Exiles flag bearer in 2013 and to meet the Lord Provost, Donald Wilson.
In John's words, "Anyone asked to follow in his footsteps should jump at the chance!"
He married in 1967 and raised a family with his wife Joan in Ontario, to whom he was married for 38 years. She sadly passed away in 2007. After 27 years piping with the Uxbridge Legion Pipes & Drums and serving as Pipe Major for those final 7 years John retired from the band that same year.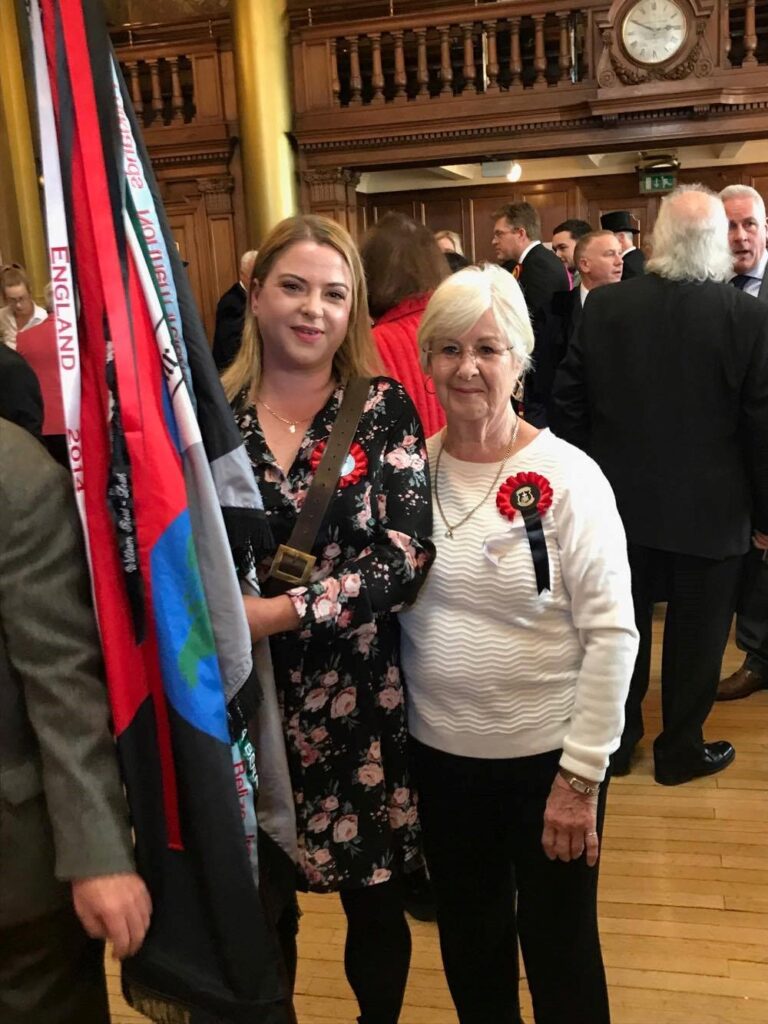 Gemma Berry
Edinburgh Exiles Standard Bearer 2017
In 2017 the Exiles Standard Bearer was Gemma Berry and her mother, Doreen Berry, took the role of Lady Busser. Doreen Berry's childhood home was Edinburgh from the age of 4, when the family moved from Culbokie, Black Isle. Her father was in the Royal Navy and they lived in the military barracks in Leith. The family moved to the Inch a couple of years later with Doreen attending school in Gilmerton. In 1965, at the age of 21, Doreen Berry moved to London, met her husband John and they married in 1968, living in Liverpool and Brighton and in 1974 moving to South Africa where their daughter, Gemma was born.
Gemma lives in Edinburgh and her mother Doreen returned to live in Edinburgh once again following the sad passing of her husband in 2007. As one of 3 daughters, Gemma was delighted to represent her family and all returning Edinburgh Exiles in the 2017 Edinburgh Riding of the Marches.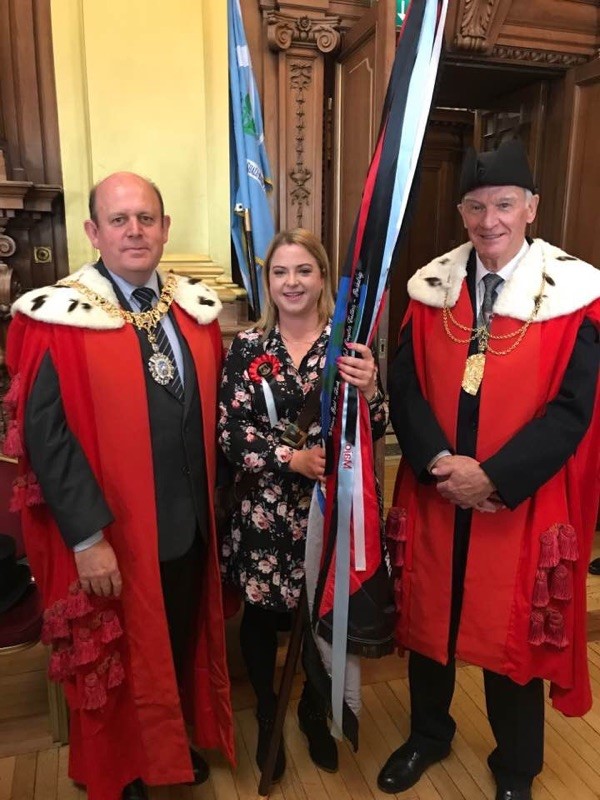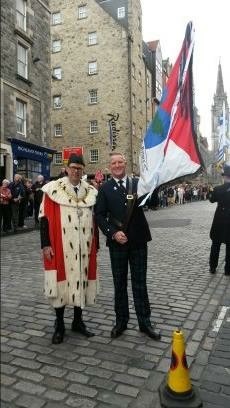 Major Cameron Hastie
Edinburgh Exiles Standard Bearer 2016
Major Cameron Hastie returned to Edinburgh with his wife, Sonia to take part in the ceremonial Civic Reception of the Edinburgh Riding of the Marches as invited guests by the Lord Provost, Donald Wilson.
Cameron was born in 1965 to parents, Donald and Joan Hastie. He was the last of 5 children and the family lived in Pilton, Edinburgh at the time of his birth. His family connection to the city is through his mother, Joan who has a connection to Newington.
Major Hastie can proudly boast an impressive if not exceptional military career which began at the youthful age of 16 entering the 1st Battalion, The Royal Scots. For the following 12 years he taught Infantry Junior & Senior NCO's, was warrant Officer at the Army Training Regiment, Winchester, served 2 years as Small Arms Advisor to General Officer Commanding 2nd Division and held the role as Jungle Warrant Officer when posted in Belize. He completed this extensive career with the Small Arms School Corps at the Royal Military Academy Sandhurst.
Leading up to his current position as Staff Officer for Infantry Recruiting at Warminster, Major Hastie has held other important posts with the Army Air Corps – Officer in Charge of Ground Training at Middle Wallop and Master Coach conducting Leadership & Coaching seminars.
On this occasion, Cameron decided to have the embroidery on the 2016 bussing ribbon with the names of places around the world where he was deployed and served over his long and demanding military career. Some locations are Belize, Germany, Kuwait, Jordan, Lebanon, Northern Ireland, Sierra Leone, Beirut, Canada and the Falkland Islands.
In his spare time, the 2016 standard bearer has played and skippered the Army Masters Rugby Team and is also a triathlon (Nice Ironman, Monaco 70.3), marathon and extreme sports competitor and the Team Manager for the Senior XV Army Rugby Squad!
Cameron has been honoured to return to his city of birth and participate in such an event as the Main Event Day for the Edinburgh Riding of the Marches! He was pleased to have his wife, Sonia, a Specialist Needs Assistant for her local Council, by his side.
Today, Cameron is a father of two beautiful daughters, Nicola and Michelle and a happy grandfather of three – Thomas, Mackenzie and Dylan.
Sheila Collins
Founder of the Edinburgh Exiles Society.
Edinburgh Exiles Standard Bearer 2015
"Being able to carry the Edinburgh Exiles standard as part of the larger foot procession and in front of historical Edinburgh Riding of the Marches cavalcade has been one of life's rare honours. I represented my family on both my Dad and Mom's side of the family tree the day I carried the flag in September 2015".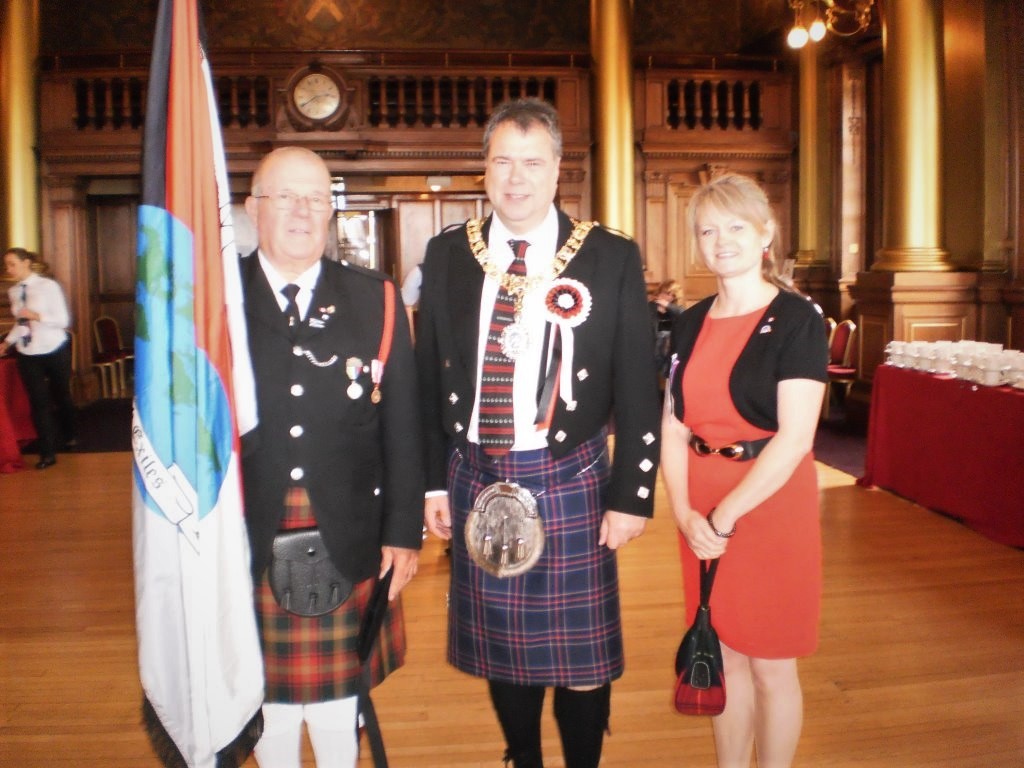 Sheila's father, Mel Collins, was born and raised in Edinburgh and met Sheila's mother in 1960. As a married couple her parents left for the shores of Canada in 1962. Sheila's mother, Evelyn (nee Reid) Collins's father, William Reid left his hometown of Edinburgh for Canada in the 1920's to begin life anew in the province of Ontario.
"Naturally my inspiration for the Edinburgh Exiles Flag came from a few sources. The first was learning from Jack Harper's book, 'The Riding the Selkirk Commons and the Rearing of the Marches'. Described within the pages are the origins of the Selkirk Colonial Society founded in Hespeler, Ontario. The Society gifted 'The Golden Banner', a flag to welcome home the Selkirk 'Souters' during their Common Ride weekend. Second, was being witness to their 'Bussin Concert'; an event to welcome home all those returning to town from abroad in their Victoria Hall. It is during this formal event that they hold the bussing (ribbon tie) of the Colonial Flag followed by a dinner social."
"Of course my own father's and grandfather's move to Canada from Edinburgh brought my idea for the Edinburgh Exiles flag to the most logical conclusion. That was to design, create and gift a flag in 2013 to Edinburgh's own Edinburgh Riding of the Marches as it had been re-launched in 2009. The flag was made in Toronto and my Mum, Evelyn Collins brought to Edinburgh in time for the Civic Reception in 2013. I handed it over to the Lord Provost, Donald Wilson. The Lord Provost then handed it over officially to our first standard bearer, John Hill. John was visiting from Canada."
"It was an absolute honour to have our Lady Provost, Elaine Brand bus the flag during the 2015 Civic Reception prior to the foot procession. I made the climb to the top of the city's Mercat Cross in time to witness the riders' cavalcade making their way up the Royal Mile!"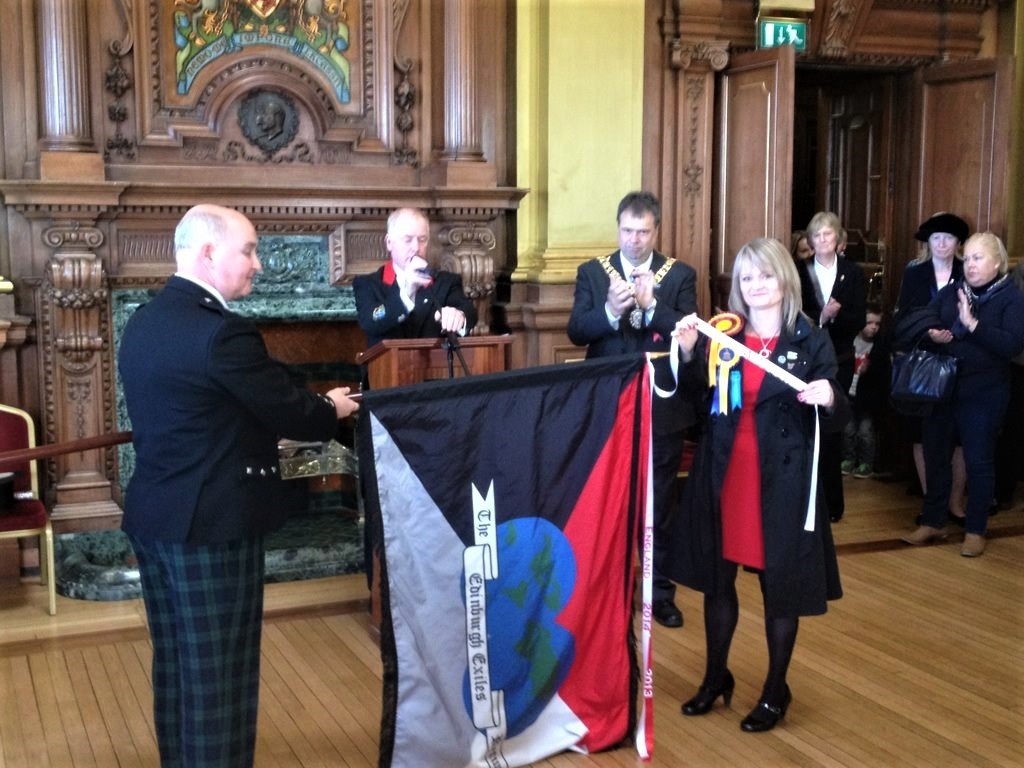 Ian Wilson Tough JP FRSA FSA Scot
Edinburgh Exiles Standard Bearer 2014
Ian was born in November 1955 at the Simpson Memorial Maternity Pavilion, and Christened in February 1956 at Newhaven-on-Forth Parish Church.
"I am a Bow-Tow (a Newhavener). Although my father's surname, Tough, and my mother's maiden surname, Wilson, both have their origins in the north of Scotland, all recent generations of my family ancestry were mainly Newhaveners, with a few 'interlopers' from Leith who crossed the bridge into Annfield. Situated between Leith and Granton on the Firth-of-Forth, Newhaven's history revolves around the sea. It was a prominent fishing village both before and after it was absorbed into greater Edinburgh."
"Many generations of my ancestors were involved with the sea in one way or another, fishermen, trawlermen, fishwives, netmakers, sea pilots to name but a few. My Mum and Dad were not themselves involved with the sea however. Dad was a baker, working with his cousin, William Mason, who's Newhaven based bakery and shop was well known across the city. Later in life, Dad worked for Crawfords of Edinburgh in the same trade. Mum was an accounts clerk for Brown Brothers."
"In my very early years, Mum and Dad had a flat above the Powderhall Arms in Broughton Road. When my younger sister was born we moved to a larger flat in Wardieburn, Granton. I was educated at Trinity Academy in Craighall Road. My first job was with Thomas C Gray's, Sherriff Officers, at the top of Victoria Street, just off George IVth Bridge. In 1973, I moved to London to begin my 35 year Civil Service career. I now live in Crayford in north Kent, having married a London lass who I met when we were both working for the Civil Service in Aylesbury, Buckinghamshire. So, like many exiled Scots, I've travelled around a bit during my life."
"My love for my home City has never weaned. I still have both immediate and extended family in Edinburgh, and travel back there several times a year. A Burgess of the City, I am a proud member of the Incorporation of Candlemakers of Edinburgh. A Friend of the Royal Scottish Academy, and a Fellow of the Society of Antiquaries of Scotland, both Edinburgh based organisations, I like to frequent there whenever I have the opportunity. My membership of the City Livery Club in London, affords me reciprocal membership of Edinburgh's New Club, with its wonderful vista of the Old Town above Princess Street Gardens. I also maintain my Masonic connections within the City, and am a member of Edinburgh Royal Arch Chapter No1, and other Masonic bodies."
"In September 2014, I was granted the great honour of becoming the second bearer of the Edinburgh Exiles flag at the Riding of the Marches. The flag was formally presented by the Lord Provost at Edinburgh City Chambers, and 'bussed' by its maker, Sheila Collins, with a ribbon bearing my name and country of exile, England. It was one of the proudest moments of my life, and left me with memories that will remain with me forever."