The main event day draws crowds in excess of 20,000 and whilst many of them are there to see the incredible spectacle of 300 horses traverse the Royal Mile from Parliament to the Mercat Cross, the event arena is already packed by noon, when the event entertainment begins with Pipe Bands, Silver Bands, Ceilidh Bands, historical re-enactments and other stunning performances.
Here you can read about our performers for our main event. If you or your group would like to be considered as part of the entertainment for the Edinburgh Riding of the Marches, please do contact us.
St Ronan's Silver Band
St Ronan's Silver Band is Scotland's oldest band, founded in 1810 and the most active arts organisation in the Scottish Borders town of Innerleithen. Throughout its long history, the Band has entertained thousands of people and the Band is well known for its commitment to learning and teaching. St Ronan's operates a Family of Bands with over sixty members across the Training, Future and Senior Bands and several players are members of the National Youth Brass Band of Scotland.
In common with many brass bands, St Ronan's is a competition band and has been crowned Scottish Champions on three occasions – in 1999, 2007 and 2013. The Band has also been judged as the Most Entertaining Band in the Borders on no less than six occasions in the last decade.
You can find out more about the band on their website and can follow them on Facebook and Twitter @stronansband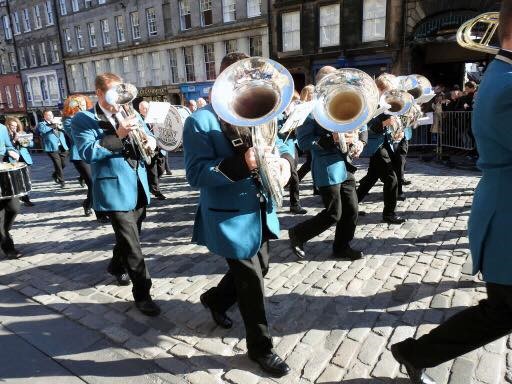 George Heriot's School Pipe Band
The George Heriot​'s Pipe Band support the Edinburgh Riding of the Marches every year. The band has over forty members between the ages of 9 and 18 years old. Tuition is offered to pupils of George Heriot's School in Primary 4 right through to Senior 6 and there are over 100 learner pipers and drummers at Heriot's in addition to the pupils in the band. The George Heriot's Pipe Band take part in competitions organised by the Royal Scottish Pipe Band Association and recently achieved 3rd place in the British Championships. The band were also runners-up in the Scottish Schools' Championship held in 2011.
The band offers many exciting opportunities to perform at events such as the annual Beating Retreats at Edinburgh Castle and Holyrood Palace. Other annual events in the Pipe Band calendar include concerts at the Queens Hall and Usher Hall.
You can find out more about the band at the George Heriot's School website.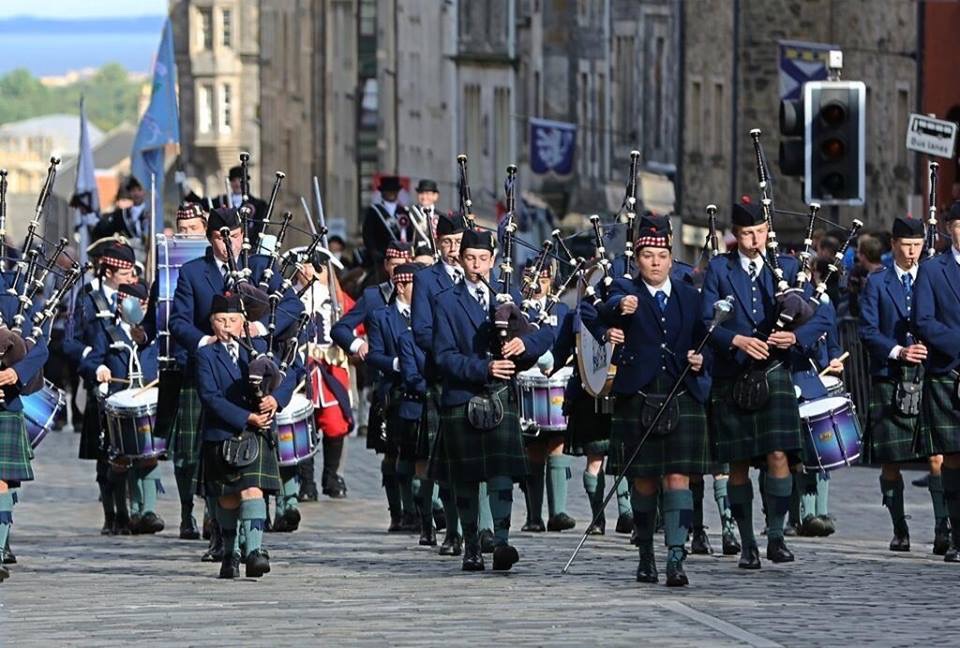 Erskine Stewart Melville School Pipe Band
The ESMS family of independent schools is for children aged 3-18 in Edinburgh. Together their schools have been turning out world-class boys and girls for over 150 years. They offer a co-educational Junior School, single-sex but closely twinned secondary education for boys and girls and a co-educational Sixth Form.
Their music education produces leading musicians and their Pipe Band, with a range of ages, is no exception. In their striking tartan and with their Bass Drum providing the heart beat of the band, the Erskine Stewart Melville School Pipe Band has been an annual fixture at the Edinburgh Riding of the Marches.
You can find out more about the ESMS School on their website.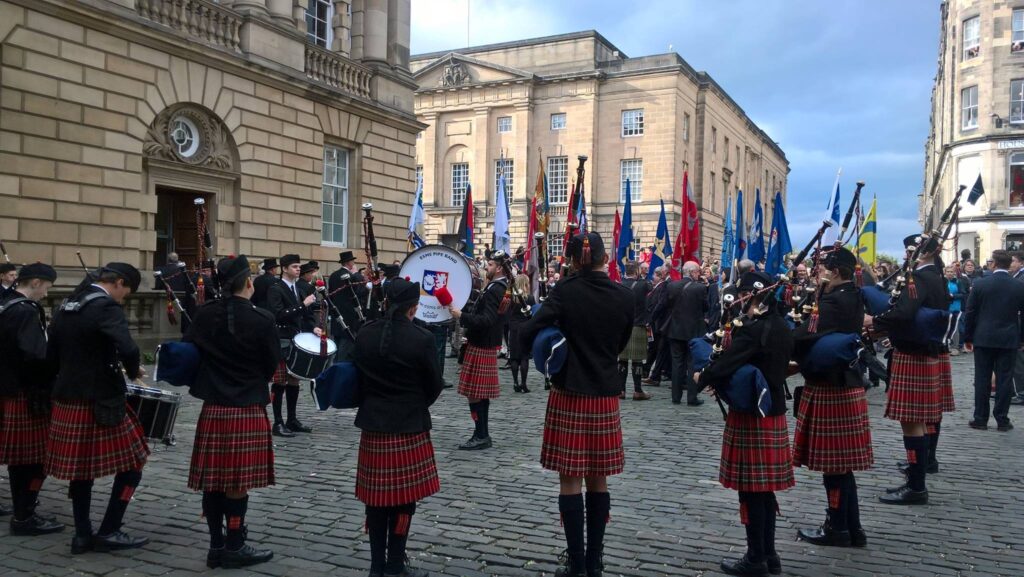 George Watson's College Pipe Band
George Watson's College Pipes and Drums has three bands of varying ability under the leadership of Pipe Majors Iain Simpson and Ross Harvey, and Drum Majors Mick O'Neill and Arthur Cook. They are assisted by two part-time teachers. There are currently over 200 children being taught either piping or drumming at Watson's.
Competing all over the UK at Juvenile and Novice Juvenile level, the Pipes and Drums is one of the most successful teaching establishments in the Royal Scottish Pipe Band Association. The Juvenile band has won the World Championships six times and our Novice Juvenile band has won the World Championships four times. Both bands have won the Scottish, British, European and Cowal Championships on numerous occasions. In 2012 the band was awarded the prestigious Pipe Band of the Year at the Scottish Traditional Music Awards.
You can find out more about the school and band on their website.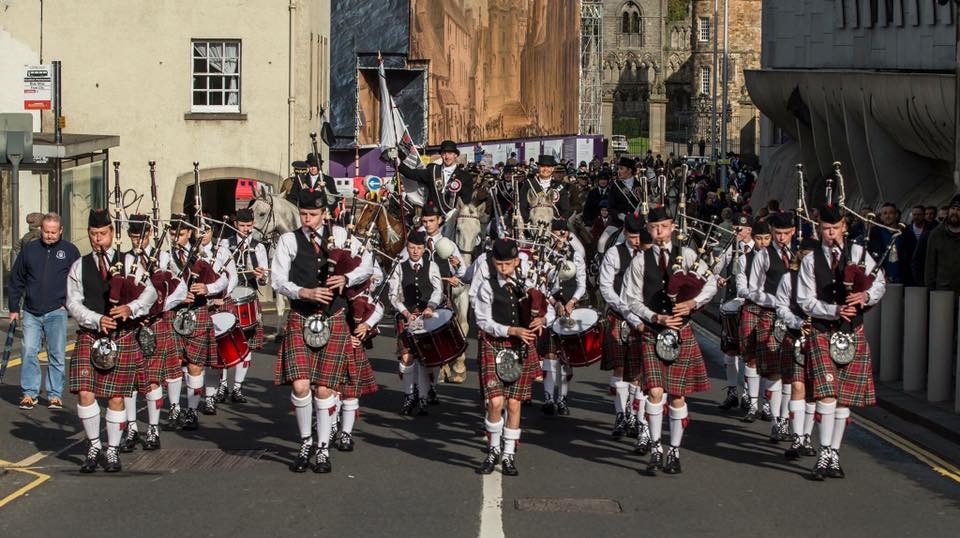 The Jacobites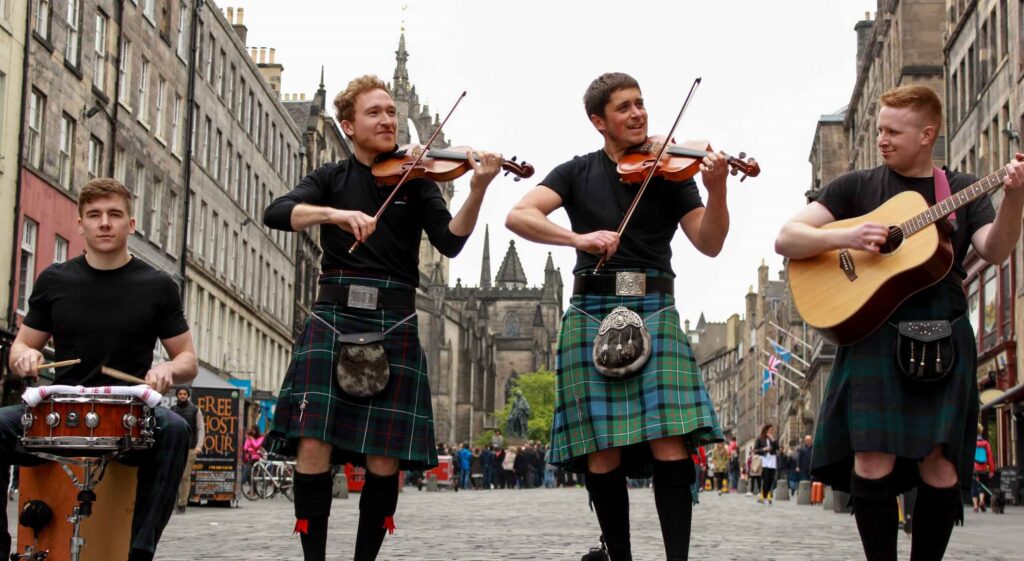 A regular sight on the Royal Mile and founders of the Edinburgh Street Ceilidh, The Jacobites bring live music and dancing to the cobbles of Edinburgh's famous street for the Edinburgh Riding of the Marches.
The Jacobites are inspiring the next generation of Scottish musicians and are an award-winning band. Their unique style of traditional Scottish music with their contemporary Scottish folk music mix has entertained thousands of people from all over the world. Offering a 4 piece, 3 piece of 2 piece band, The Jacobites can tailor event requirements and their professional Ceilidh Dance Caller will ensure that you and your guests are kept entertained.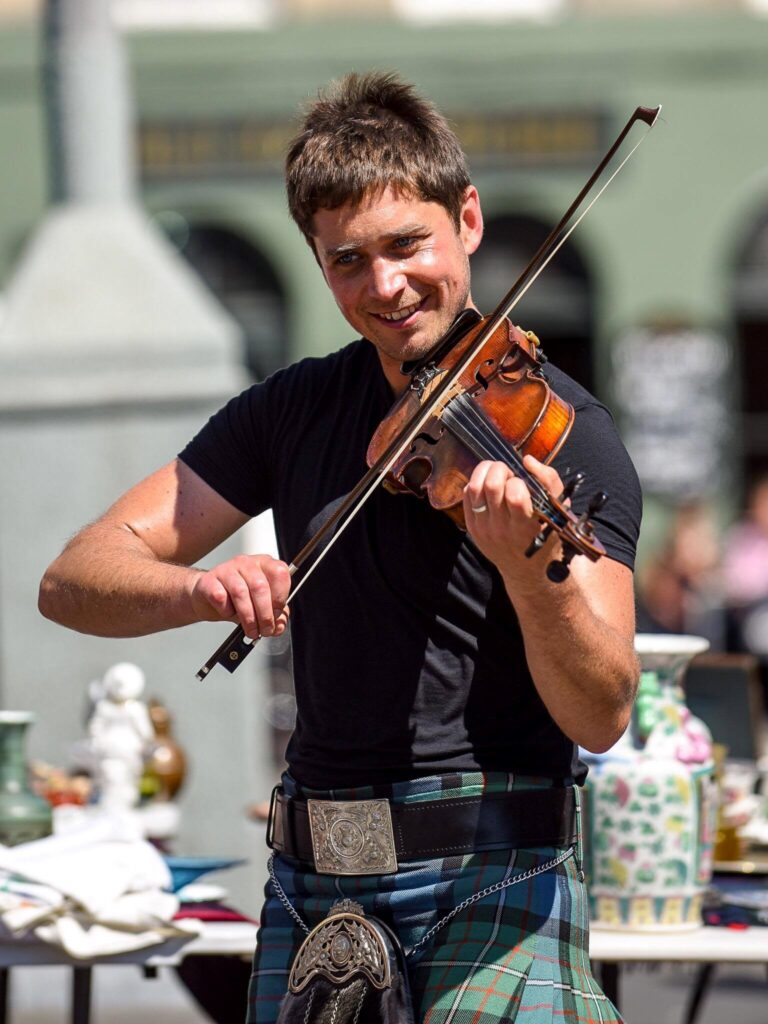 Their highlights are playing at the festival Mestralia in Catalonia, playing a festival tour of North East France including Paris, composing and performing a WW! Remembrance tune for HRH Princess Anne and playing at the BBC Hogmanay Live with world famous musicians, Phil Cunningham and Aly Bain.
Passionate about Scottish music, they play it, write it, teach it and perform it. Together they have over 30 years combined experience in the Scottish music industry, playing at weddings, concerts and events across Scotland, the UK and Europe.
You can find out more about The Jacobites, including how to contact them and book them for your event via their website.
Riders of the Storm​​

Riders of the Storm are a unique Equestrian Stunt Team based in Perthshire, Scotland. They are the only team in Britain that combines the elegance of vaulting with dare-devil trick-riding in a single show.
They bring these displays and stunts to the Royal Mile to entertain the crowds at the Edinburgh Riding of the Marches, with their riders performing incredible feats on their selection of beautiful stunt horses.
Travelling extensively across the UK and performing for events including The Highland Military Tattoo in Fort George, Blair International Horse Trials and Olympia, Riders of the Storm also provide experience days, holidays and confidence courses from their base in Perthshire and regularly supply for film and television.
Read more about Riders of the Storm on their website and follow them on Twitter, Facebook and Instagram for more information, news, photographs and show-reels.
History Matters Ltd
Re-enactments, Film, Education, Tours and more!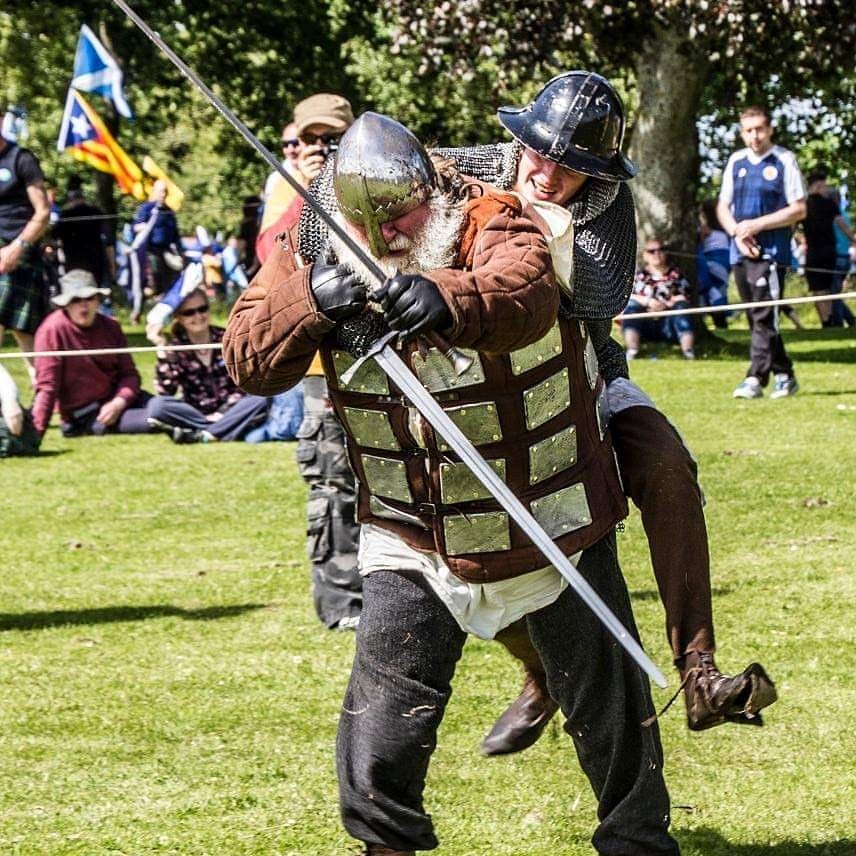 If you love your movies, it's very likely you'll have seen members of History Matters in action! But it's not all about stage-fights and swords… whether it is working with TV and Film companies, providing Guided Tours of Scotland's hidden gems via car or motorbike, providing historical education for schools or entertainment and medieval banquets for corporate events. History Matters delivers dedication and professionalism that keeps their clients asking for them time and time again. With a huge range of theatrical props and actors, they can transform any event using history or fiction as a theme and their clients include Pink Floyd, Reebok, Warner Bros. Films, Historic Scotland, National Trust for Scotland, the BBC, National Geographic and many, many more.
The team at History Matters are bringing action and entertainment to the Edinburgh Riding of the Marches and the historic Royal Mile!
Find out more on their website, follow them on Facebook: @historymattersltd and Instagram: @historymattersltd